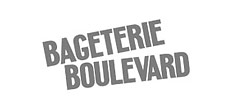 CREATIVE DIRECTION:
Martin Kušpál
FOODSTYLING:
Vladimír Bár
PHOTOGRAPHY:
Šťepán Mamula
Making a design for Bageterie Boulevard is a dream come true and a great challenge at the same time
When I went to Prague more than five years ago, I could not fail to notice the perfect visual identity and top food-styling of a unique fast-food franchise. Even in my dream I would not think it was a Czech brand. Becoming a marketing contest among the biggest players such as McDonald's or KFC wants not only a batch of good courage but also a great team of people with unique qualities. In addition to great marketing management that tells us exactly what they are looking for, while leaving us enough space for creativity (which we consider to be very demanding in terms of control and openness to new ideas), we have to thank for a truly professional collaboration with the COTASHON photo studio which with its 100% accuracy, always translates our ideas into reality. Nothing makes us happier than an accurate and precise realization of our ideas.
Be careful what you wish for in Prague, you might actually get it
I suspect that whatever I wish in Prague during a good beer glass, I will get without delay within three years. Just as I wanted to be part of the creation of these great visuals of such a refined franchise a few years ago, today I want Prague for us to continue to be a place where we can realize our talent on the most demanding projects.
At Bageterie Boulevard, we are also excited to be part of its expansion to foreign markets. From the excellent selection of delicious baguettes, drinks and fit sandwiches, as well as seasonal specialties, you can also choose from the first two operations in Bratislava.
And what do we suggest next?
We would like to share with you more information, but it is strictly confidential, the new menu will be a real treat for gourmets. And not just a photo-graphic!