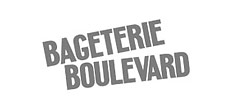 CREATIVE DIRECTION:
MAISON D'IDÉE Prague s.r.o.
FOODSTYLING:
Vladimír Bár
PHOTOGRAPHY:
Šťepán Mamula
#bageterieboulevard #chefmenu #creativity #prague #campaign
The client briefed us to create a visual scented with a sea-filled air from the southern beaches of France, specifically Saint Tropez.
We decided to use beach sand in our design for this occasion which, in addition to our foodstyling, worked perfectly. Sandy background feels neutral and pleasant and at the same time it lets crunchy baguettes stand out on red and blue napkins.
Our visual is further accompanied by minimalist graphic elements that were inspired by the French flag and its horizontal duplication.
We have to thank photostudio COTASHON for a great cooperation that always takes our graphic vision and transforms it perfectly into a reality. Nothing pleases a designer more than when he sees his thoughts materialized with precision and accuracy.